case study
revalu - Development of a platform for optimizing sustainability in the construction industry.
Discovery, Projectmanagement, UX/UI Design, Development
The Mission
To build a platform to enable ecological architectural decisions in the building sector.
The Outcome
Research, data preparation and development of a product platform for sustainable building products.
The Impact
Development of a product platform to increase sustainability in the building sector.
Services
Discovery
Projectmanagement
UX/UI Design
Development
Press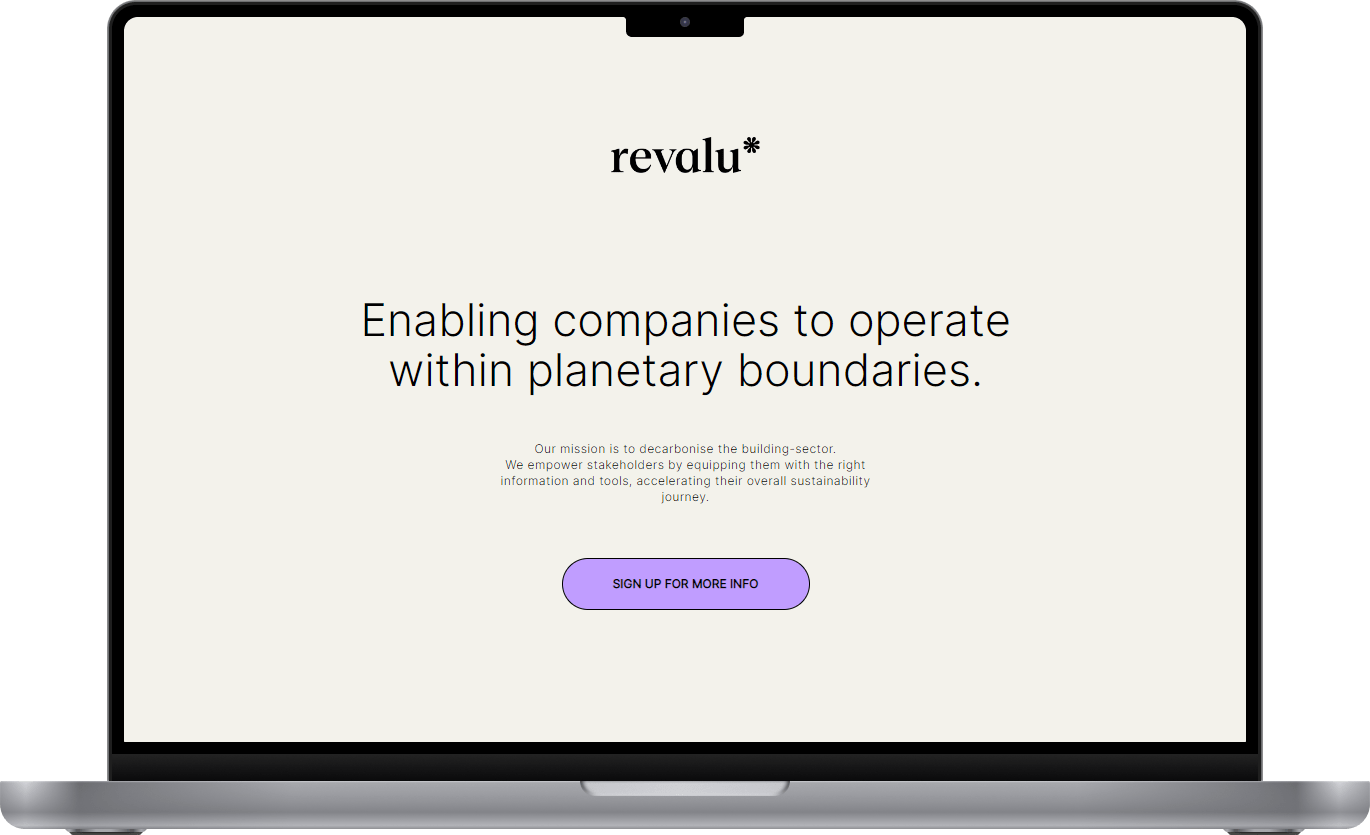 Revalu is a platform that lists products or raw materials for the construction sector and publishes impact-relevant information on these products. This information includes facts and data on the environmental footprint of these products. By providing easy access to this information, revalu aims to improve decision-making in the construction sector, as well as ethical and social standards, through an advanced information system for its users. At the same time, it aims to make a lasting contribution to the issue of reducing CO₂ emissions.
Revalu aims to be a platform that delivers raw/material data for the construction sector to enable ecological architectural decisions. The objective of the project is to provide the users of the platform with product data in an understandable and simple way that is relevant to the product. Especially in the building sector there is a great potential, because of the high energy consumption and increased waste production in this sector.
Currently, the construction sector has a lot of room for improvement in terms of sustainability. Standardization work on R CEN/TC 350 "Sustainable Construction" is becoming increasingly important at the highest level. The possibilities for those responsible for construction to inform themselves about products are currently limited. There are few bases for making ecological decisions, or very time-consuming research work would have to be carried out, as data is stored in a decentralized manner at various sources.
At the moment, there is no portal that collects relevant information and allows an evaluation of these products. Our task is to develop such a platform. For this, the implementation of a database is necessary, which contains all product information, on the basis of which a comparison as well as an evaluation of these products can be made by different aspects, e.g. the environmental impact. The collected information will be presented through an appealing frontend. Furthermore, a rating system will be implemented which allows end users to rate the environmental impact of the products on the revalu platform. With our work we would like to make a valuable contribution to sustainability in the construction industry.
Contact us
Benefit from our entire range of services or create a tailored offer based on your needs. We are happy to develop an individual package for you.
Back to Case Studies