E-Commerce made easy!
Do you want to sell your products online and need support regarding the implementation of sub-processes or even the whole process of e-commerce? In this case, i-ways is your perfect partner!

Since 2005 we have been successfully optimizing processes for retailers as a full-service-provider (FSP). Starting with the inventory of goods, to online sales, up to returns management. We support your company on all levels of digitalization, system engineering, logistics and customer management.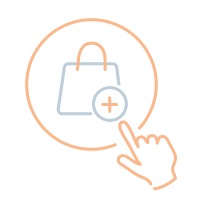 Onlineshop
We realise your e-commerce dream from conception to scaling. We work with the most popular shop systems, such as Magento, WooCommerce and Shopware. Selling through your own webshop increases your turnover and diversifies your sales channels.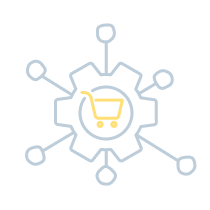 Omnichannel connection
Sell on different channels at the same time. We set up the whole thing technically for you and connect you to platforms such as eBay and Amazon. We use our interface tool Omniconnect for the connection.
UX / UI Design
We create interfaces that your customers will love. A well-designed user experience also promotes the conversion of your shop. Create seamless shopping experiences with us and raise the satisfaction of your visitors to a new level.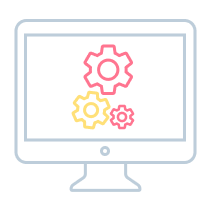 Software development
Do you need help setting up or expanding your online shop? Are you looking for the right partner to professionally set up your project?
Contact us and together we can implement your ideas.
Why e-commerce?
In 1995, Amazon sold its first item online. It was a book. A good 20 years later, there is virtually nothing that is not bought on the internet. The worldwide turnover in e-commerce is over 2 trillion US dollars. It is clear even to the biggest sceptic: e-commerce is the future.
In the beginning, the possibilities in e-commerce were still relatively manageable. That, too, has changed fundamentally. Whether it is the personalisation of customer wishes, customer-friendly returns processing or optimised integration – the world of e-commerce has continuously expanded its strengths and taken the market by storm. It is already clear that e-commerce will continue to develop at a similar pace. Even shops that are very well positioned by today's standards are getting fit for the future and, in the best case, helping to shape it. Those who make top sales today and sleep through the next trend may be left behind tomorrow.
Onlineshops and B2B webshops
The provision of an online portal as a central ordering platform for your customers has many advantages. In addition to the automation of ordering processes and a uniform digital customer management, it also increases customer satisfaction. Finally, ordering and handling processes can be viewed transparently via the portal, including additional information such as history or invoices. Please do not hesitate to contact us if you have any further questions.
Finance your online shop and get started easily
With us, you can implement the establishment of an online shop with little equity capital. As qualified partners of various funding programmes, we can help you obtain suitable funding for your digital project.
Energy label plugin, switch now
Since 01.03.2021, online retailers are obliged to label the energy consumption of appliances. We have developed plug-ins specifically for displaying the energy efficiency class (EEK) for the most common shop systems.
Advantages of introducing a web shop as a B2B sales channel
Protected B2B area behind a login
Decide whether your range is only visible to customers who are logged in or whether visitors can also see your products. Set list prices or show products without price information. In addition, you can optionally display certain information such as availability or stock levels in the protected business customer area.
Quick entry of new prices and products
Add products to your shop quickly and easily. Fast listing is a great advantage when selling off stock or seasonal goods. Play out new listings directly to the appropriate customers by automatically informing your customers about new offers via a message in their account.
Individual products for suitable customers or customer groups
Segment your customers into groups and offer only suitable products to the corresponding customers and groups. Facilitate recurring orders for individual products that need to be customised or configured, for example.
Management and status of orders for your customers
Provide your customers with order data and histories, invoices, shipping information, sales, returns and much more via a portal login. Simplifying functions, such as triggering a repeat order to reorder certain items or evaluations of sales can also be added.
Appropriate prices and discounts for customer groups
In addition to flat-rate discounts for customers or customer groups, you also have the option of setting staggered prices for individual products according to quantity for customer groups or individual customers.
Advantages of introducing an online shop as a sales channel
Profit from a growing trend
According to Statista, the e-commerce market is growing by 10% every year. In 2020, growth has accelerated even more. Every industry is affected by this. Giving your customers digital access to your products is not only timely, but will soon be a must for your business model.
Internationalise your business
In contrast to the local nature of your shop, digital trade knows no borders. Offer your products to an international clientele and benefit from the global networking of our society. Perhaps in the future your core turnover will be somewhere completely different than you previously thought.
Use social platforms as leverage
International platforms such as Facebook, Google, LinkedIn, Xing and others have billions of users. Roll out the marketing for your online shop specifically to potential customer groups and reach millions of buyers. It only takes them one click and they are in your product range.
Offer discounts for a targeted sale of goods
Use various features such as discounts or bundles to make your products even more attractive. Sell goods specifically with discount promotions or increase the average turnover per customer with cross-selling via product bundles.
Individual design and a good user experience
Online shopping is easy and convenient. Browsing products and making the right choice for purchase can be done in a relaxed way on the sofa or over your morning coffee. Delivery is made directly to your home. Offer your shop as a platform for a pleasant shopping experience and make it as easy as possible for your customers.
Search engine optimization (SEO)
Search Engine Optimisation is the mix of technical conditions – both onpage and offpage – and individual content to ensure optimal visibility on the Internet and relevance for your future customers. i-ways supports you to a high degree with technical, strategic and content solutions.
Strategy consulting and training
For a strategist, there are no surprises. The constantly and rapidly changing market mechanisms in e-commerce require a results-oriented strategy.
i-ways supports them with holistic and action-oriented consulting, from strategy development to controlling the implemented measures. Our recipe for success is a mix of classic management consulting and expert knowledge of the digital market.
Contact us!
Use all our services or select the offer that suits you best. We will be happy to develop an individual package for you. Regardless of the size of your e-commerce company, we are at your side as a flexible fulfilment partner and professionally support you as a shop operator in the processing of your e-commerce online shop.  
Back to Marketplace Services 🛒