Marketplace Services
As a digital agency, we offer you a full range of services in the area of e-commerce. Developing professional online shops, consulting, using our tools to optimize your existing online shop – you always have a strong partner at your side.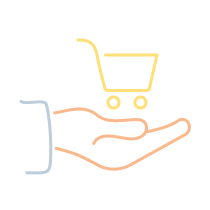 E-Commerce services
E-Commerce is in our DNA. As a full-service agency, we support the implementation of your digital distribution channels. We connect you to platforms such as eBay and Amazon or create your own online shop for you. Further support is offered in areas of performance, marketing, payment integration and fulfillment. Since 2005 we have been supporting companies on all levels of digitalization, systems engineering, logistics and customer management.
Omniconnect
Omniconnect is a hub solution that was developed by i-ways for connecting and monitoring a wide range of systems. It allows you to connect and centrally manage ERP, PIM, payments, CMS and CRM using a single, multifunctional interface. With this you can create a multifunctional, scalable infrastructure for your company.
Head over to our Innovation Lab 🧪